TWEET/BEAT
A Roundup of Recent Tweets Worth Pondering
So, the thing is tweets come and go. And if you aren't following the right somebodies, they don't even come.  It's like they never were. The aim of "Tweet/Beat" is to preserve or raise up some West Virginia-centric tweets worth pondering for a second or two longer. Or maybe for the first time. When applicable, we'll add appropriate links for what a tweet may be referencing. You may also consider Tweet/Beat as a recommendation for some folks worth following in your Twitter feed (if you have one), or worth tracking down elsewhere (if you don't). I will admit to being a fan of Ted Boettner's somewhat cranky, but always informed and spot-on Tweets. Which is why he is overrepresented in this post's roundup as the director of the West Virginia Center on Budget and Policy weighs in on some of important issues affecting the Mountain State:
+ + +
WHERE ARE THE CANDIDATES?
There is a strong movement of (winning) progressive state and federal level candidates around the country pushing $15 min wage, Medicare 4 All, free tuition, criminal justice reform, etc.

Are there candidates in West Virginia doing this?

— Ted Boettner (@WVpolicywonk) August 29, 2018
+ + +
IT'S A MILLIONAIRE THING
I READ SOMEWHERE Gov. Jim Justice is West Virginia's only billioniare. (How's that working out for you, Mountain State?) But what about millionaires? Ted Boettner — a data-driven charts and graphs guy — uses a new report tracking the concentration of American millionaires statewide to once more beat a rather important  drum he has been beating loudly and regularly:
WV ranks 50th (behind Mississippi) in the share of households with a million + in assets. This is why it is so important to have an adequate tax on non-renewable natural resources like coal, oil, and gas. https://t.co/FzuYAvEZrY

— Ted Boettner (@WVpolicywonk) August 29, 2018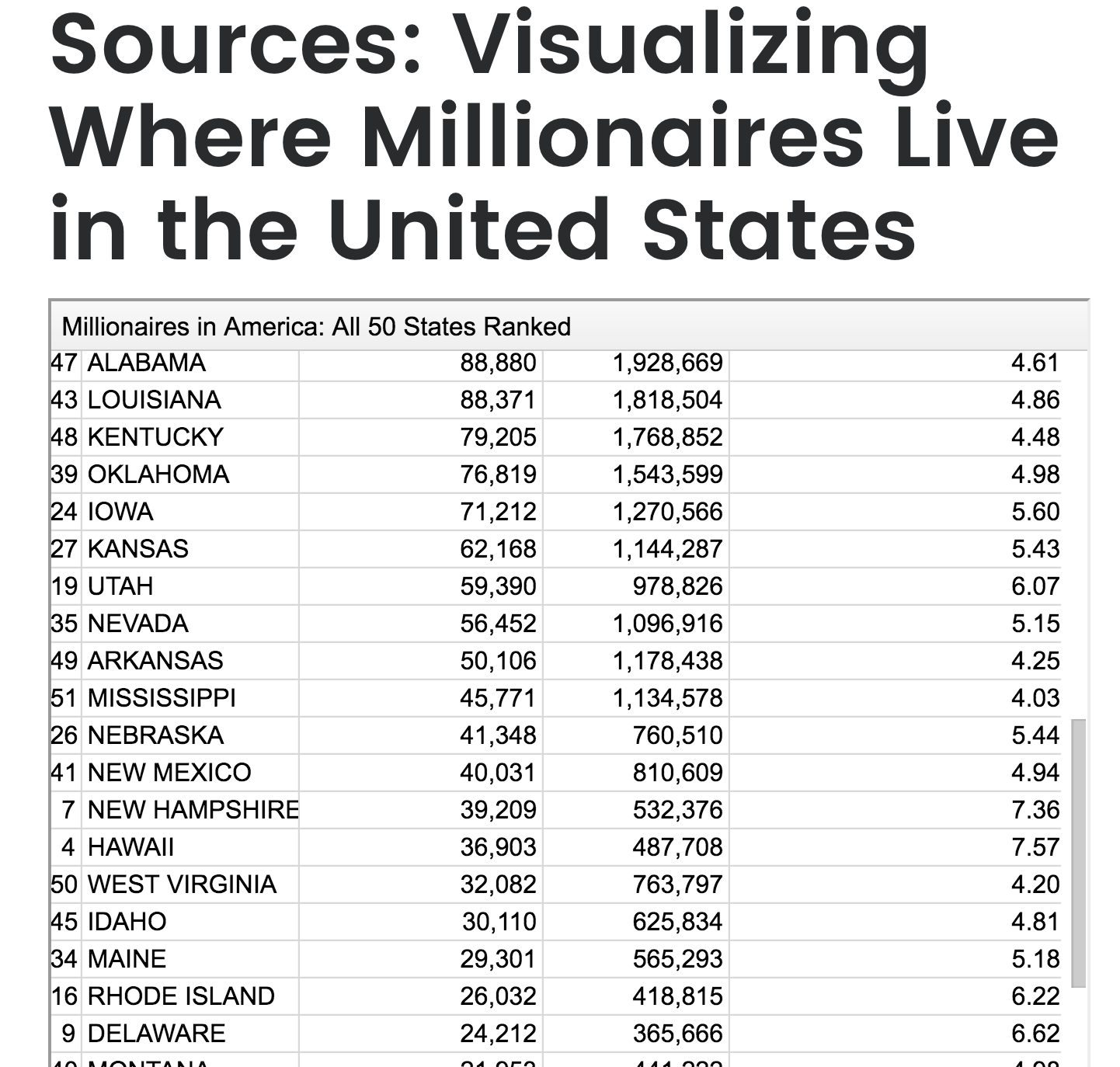 SOURCE:  howmuch.net/sources/americas-millionaires-by-state
+ + +
DON'T LIE TO COAL MINERS
Congressman Ted Lieu is one of those rare politicians who can speak in declarative sentences without guile. In this recent tweet he speaks truth to (coal) power, The line "We honor coal workers by not lying to them" should be either a bumper sticker or a tattoo or both:
The percentage of US electricity from coal fell from 51 percent in 2008 to 31 percent in 2016, an unprecedented decline. At the same time, as the below article shows, cleaner, better energy became available.

Coal is not coming back. We honor coal workers by not lying to them. https://t.co/BzLmATv2dF

— Ted Lieu (@tedlieu) August 25, 2018
+ + +
THERE'S SMART IN THOSE THEM HILLS
West Virginia has produced an abnormally high number of famous mathematicians and rocket scientists (Homer Hickman, Katherine Johnson, John Forbes Nash) proving that there is so much more than just coal hidden in our mountains.

— anna kathleen (@recklessintent) August 27, 2018
PS: Speaking of which, West Virginia State University in Institute just this month unveiled a statue to Katherine Johnson.