Stories of 2012: Thomas Merton and the Tracks of the Spirit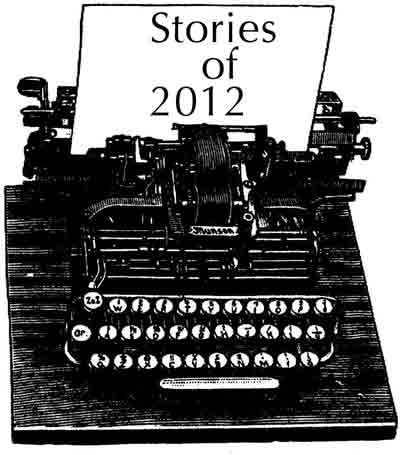 It's a wonderful, yet frustrating thing being a journalist for a small newspaper in the web age. Wonderful, in that people near and far, across your state and out of it, even whole continents away, can come upon your work. As an occasional Associated Press stringer at Miami University in Oxford, Ohio in the late '70s, I recall filing a story about the university board's consideration of whether to divest itself of stock in a pension fund invested in South Africa, over the then red-hot issue of apartheid. Eager to prove my bonafides as a wannabe journalist, for the next few weeks I haunted Miami's library — which had subscriptions to all the main Ohio newspapers — pawing through newspaper after newspaper, to see if any of the state's outlets had picked up the story, so I might add it to my clips.
The web transformed a few things, of course. That's the frustrating part. There's no one main audience focused in one main place anymore. Maybe someone encountered a story of mine who still keeps a print subscription to my paper, The Charleston Gazette. Or if I'm lucky, they might, just might, find it online in the web site if they're part of that growing cadre who have abandoned print. Or not. And if I post a link to a favorite story of mine on, say, Facebook, hoping to drive new or different eyeballs its way, well … you know Facebook. In the time it took to write this paragraph, 75 new status updates just pushed my link down the page a half-mile, including that video of a 10-year-old boy who plays his mother's washing machine like Keith Moon. (Go ahead and click, I'll wait.)
So, then. Starting today, here are a few favorite stories of mine from 2012 that readers who did find them seemed to enjoy, judging by various public and personal responses, and which I feel merit a slightly longer shelf life than fishwrap or a Facebook link. The washing machine kid will likely get a few million eyeballs when all is said and done. All I ask is at least one more sets of irises.
+ + +
Thomas Merton and the Tracks of the Spirit
I grew up Catholic, though am now retired. I started reading around in Buddhism as a teenager, directed that way initially by Thomas Merton's "Zen and the Birds of Appetite." I was inspired by Merton's questing spirit. By the way he viewed the understanding and appreciation of other traditions not as apostasy but as spiritual opening. Smitten by his writing and the example of his life, I took a couple of retreats at his home monastery, the Abbey of Gethsemani, near Bardstown, Kentucky. (I am sure the white stone I placed on his grave there on one of those visits has long been dispersed). Merton, I've often said, was one of the bridges I crossed over, out of the monotheistic Christian tradition into my erratic, but foundational meditation practice in the Buddhist tradition.
Given that gift by this eclectic Trappist monk, I sometimes wonder that while I no longer share in his poetic, powerful view of a personal, singular God to which we may address ourselves, I still view Merton and his teachings as an important personal figure to me. In the Therevada Buddhist tradition in which I study, 'spiritual friends' are key. That is how our significant teachers are described. Merton has been and will always be a spiritual friend to me. When I heard a new Merton study group had been founded in Charleston, W.Va., I had to do the story.
P.S. The Merton group will shift its meeting starting in January to the West Virginia Institute for Spirituality at 1601 Virginia St. E., in Charleston, W.Va.
+ + +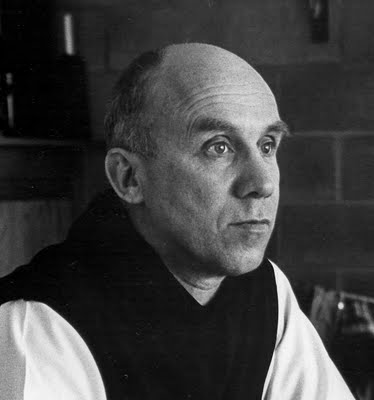 CHARLESTON GAZETTE | Aug. 12, 2012 | By Douglas Imbrogno
Perhaps the best way to write a story about a local group devoted to the worldview of Catholic monk, writer and mystic Thomas Merton is to make sure the voice of the man himself is prominently heard.
+ + +
"Solitude is a way to defend the spirit against the murderous din of our materialism." — Thomas Merton
+ + +
Merton died 44 years ago at the age of 53, yet he remains a popular and influential spiritual thinker well into the 21st century. Look no further than West Virginia's capital city for evidence, where the Charleston Chapter of the Thomas Merton Institute was formed in January.
Merton continues to speak to busy contemporary times, says Father Bill Petro, who helps run the group, which meets 7 to 8:30 p.m. this Tuesday and every second Tuesday of the month, at Blessed John XXIII Pastoral Center, 100 Hodges Rd.
"People are needing, craving, some kind of silence and solitude in their daily living," said Petro. "Merton was able to bring that contemplative dimension of living out of the monastery and offer it to people in the ordinariness of their lives."
+ + +
"A life is either all spiritual or not spiritual at all. No man can serve two masters. Your life is shaped by the end you live for. You are made in the image of what you desire." — Thomas Merton
+ + +
Merton was born in France on Jan. 31, 1915, a date Petro chose as "an auspicious beginning" to launch the group this year with the simple declaration: "We discuss all things Merton. No preparation is required."
"All things Merton" covers a lot of ground when considering the writings and thoughts of the searching young man ordained as a priest in 1949 and rechristened "Father Louis."
Merton wrote upwards of 70 books on spirituality and social justice, as well as voluminous poetry, reviews and essays. His best-selling 1948 autobiography, "The Seven Storey Mountain," recounts his path from beatnik-era partier to Trappist monk, a life arc that influenced others. As Merton's Wikipedia entry notes, the autobiography "sent scores of World War II veterans, students, and even teenagers flocking to monasteries across the US."
Merton remains pertinent, said Petro, as his probing into the human heart and his call to aid others in need offers "a foundation of basic spiritual values — for example, silence, solitude, honesty, sincerity, community, compassion: things that are written in the DNA of the human heart."
Too often, these ingrained human traits are overwhelmed by the crush of daily life and our own suffering, yet Merton's challenge was to nurture them so they flourished, said Petro. "Because of all this stuff that life puts on you, those things get drowned. But deeper down we yearn for those."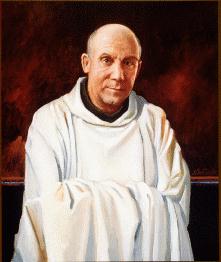 + + +
"Instead of hating the people you think are war-makers, hate the appetites and disorder in your own soul, which are the causes of war. If you love peace, then hate injustice, hate tyranny, hate greed – but hate these things in yourself, not in another." — Thomas Merton
+ + +
Like many significant spiritual figures, Merton was complex. He yearned for the solitude of a hermit's life at his home monastery, the Abbey of Gethsemani near Bardstown, Kentucky (where he is buried). Yet his open personality and questing nature, love of jazz — and beer — and his cosmopolitan upbringing on two continents, made him a man of the world beneath his brown monk's cowl.
His writing made him a national figure in the anti-war and social justice movements of the '60s. He was sought out at his hermitage in the Kentucky woods by a stream of visitors. Among them was folksinger Joan Baez, who came calling in 1966 with Ira Sandperl, with whom she'd launched the Institute for the Study of Nonviolence. The encounter is described in "The Intimate Merton: His Life from His Journals," by Merton scholars Patrick Hart and Jonathan Montaldo. Smitten by the singer, Merton wrote:
"Two days ago, Feast of the Immaculate Conception, Joan Baez was here-memorable day! . . . Out on the tobacco farm-gray skies, cold wind, Joan running down the wide field alone in black sailor pants with her long hair flying. Ira and I talking about everything and drinking beer."
Baez urged the monk to leave his hermitage and come with them, telling him: "Someone has to talk to the students and you are the one." But Merton, hewing to his calling, wrote about why he would not — could not — go:
"I can't fully explain why I don't. I mean I can't explain to them. This solitude is God's will for me–it is not just that I 'obey' the authorities and the laws of the Church. There is more to it than that. Here is where my roots are."
+ + +
"The world is full of great criminals with enormous power, and they are in a death struggle with each other. It is a huge gang battle, using well-meaning lawyers and policemen and clergymen as their front, controlling papers, means of communication, and enrolling everybody in their armies." — Thomas Merton
+ + +
More complexities were afoot at the time. Merton — after a stay in a Louisville hospital — had fallen in love with a nurse in her 20s, a woman he wrote about only as 'M.' Merton was in his 50s and the affair roiled things all about him, said Petro. "It created a lot of tension, of course, in the monastery as well as in his own life."
He eventually broke off the relationship — apparently never consummated — voting in favor of his monk's life even as romantic love brought him something, Petro said. "As he worked through that, he began to realize that that was a piece that was missing in both his human as well as his spiritual development. When he came out of it he found that his spiritual life was so much richer than before."
+ + +
"Our idea of God tells us more about ourselves than about Him." — Thomas Merton
+ + +
Merton's search for a common thread running through Christianity and other spiritual traditions led him to study Buddhism, Taoism, Hinduism, Jainism and Sufism. He undertook dialogues with important Buddhist figures, including the Dalai Lama, the Japanese writer D.T. Suzuki, and Vietnamese monk Thich Nhat Hanh.
The last year of his life found him in Bangkok in 1968, attending an interfaith conference between Catholic and non-Christian monks. He was profoundly moved while there by an encounter with a reclining Buddha sculpture.
To Merton, in studying Eastern traditions "he was really searching for Christ in all places. He was finding Christ in Buddhism, he was finding Christ in Hinduism," Petro said. "And he has this experience of the reclining Buddha. He says that he has this great awakening — his Buddha experience — that seems to transcend or integrate his search."
Soon after, he was electrocuted and died stepping out of his bath in Bangkok on Dec. 10, 1968, apparently touching the exposed wire of an electric fan. We'll never know where the monk's path would have taken him next after his encounter with the statue, Petro said.
"We don't have enough of his personal reflection on that. But we do know he has an epiphany that was an integrating, transcendent experience for him."
These many years later there are enough Mertons to go around, Petro said with a laugh. "Merton the monk, the poet, the critical literary analyst, the prophet, the priest, the essayist, the seeker. What Merton are you looking for? What Merton attracts you?"
+ + +
"Perhaps I am stronger than I think." — Thomas Merton
+ + +