CabaretCam | 1
Last night, we launched the fourth installment of ThirdEyeCabaret at The Cellar, 8 Capitol St., our weekly experiment in cabaret culture from 7 to 10 p.m. Thursdays in downtown Charleston, W.Va. No one but the players, a few friends and Nick the Mohawked bartender as 8 p.m. approached. Then – 'Bazinga!' (To quote Sheldon Cooper). All of a sudden, 40 people in the room. It being a compact room, it felt like a roaring 20s club there for a spell. Excellent opening set by Sean Richardson, one of my favorite performing songwriters in Charleston, W.Va., and a bunch of other acts.
No footage yet from last night, but above are some excerpts from past cabarets, featuring snippets of songwriter/instrumentalists T.J. King and Eric Dye;  hip-hip, call-and-response by Talented; a montage from a pedal-driven, flamenco-ish guitar and vocal piece by Christopher Harris (lead singer of Qiet); a chunk of Albert Perrone's fine song "This Man Won't Stand Down" by The BrotherSisters;; and a piece of a tune by Ryan Wright and Mike LeSueuer over closing credits.
The cabaret will be closed for Thanksgiving next week then will return THURS., Nov. 29, with the debut of the Cabaret's new MagicWindow. Or maybe it's a StarGate. Help us name our new video screen! Now, we respectfully request that you check the heck out of CabaretCam No. 1, straight from the stage and off it.
We're still experimenting, seeing if there's a place for this in town/on the web. Come quell our nerves and arrive before 8 p.m.
To the Cabaret. Come!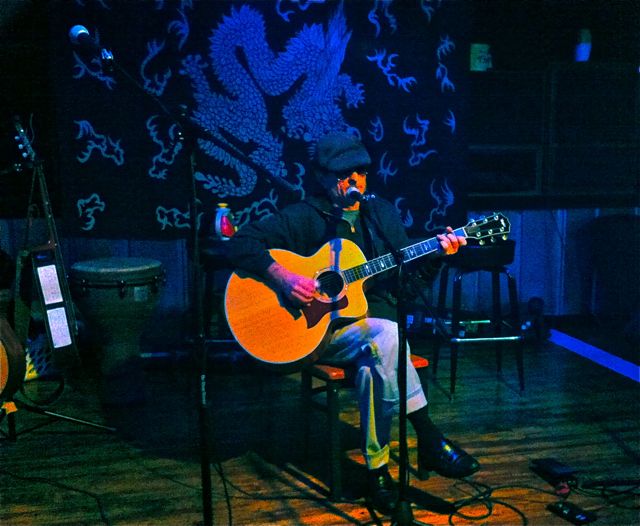 Raymond Wallace lends some blues out to the audience at ThirdEyeCabaret at The Cellar.