Photo Op: Crystal Sees How I See
PhotoOp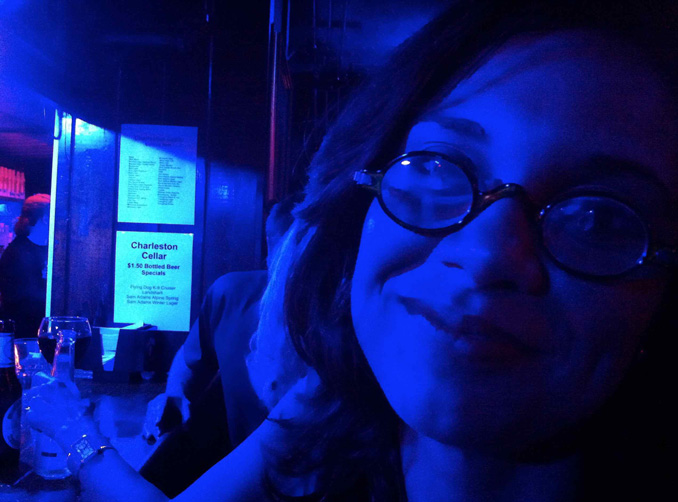 PHOTO OP: Crystal Wears My Glasses.
WHERE: The Cellar, downtown Charleston, W.Va.
WHEN: Saturday, Aug. 18, 2012
DEVICE: iPhone 4 camera snapshot.
DETAILS: I often sit on my glasses, bending them into pretzels. I lose them, constantly. Once, I dropped a pair on the cul de sac and proceeded to run over them with my Honda. This was a $600 pair of prescription glasses with a Ralph Lauren frame. That was not a good day. That was when I made the change to Economy Class. I began purchasing multiple versions of $20 reading glasses from Walgreens, Rite-Aid, Drug Emporium. I could track the decline of my eyes as I moved upwards in magnification: 1.25. to 1.75. Then to 2.25. These days, I'm settled in comfortably at 2.75. It may turn me prematurely blind, but it's far more cost effective. I'm prepping for the day my eyes go dark and I'll need a blind bluesman name for when I perform: Old Fingers Malone, say.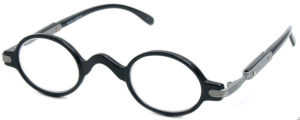 Then, I discovered this web site where you can plug in the shape, magnification and color of your desired reading glasses. Viola — increased consumer choice. Much more so than whatever the corner Walgreens has in stock beside the Pampers display. My preference for round frames rankles my daughter. "Dad! You look like Harry Potter." Yet my current pair are described as 'Elton Johns' at the site. Elton's cooler than Harry, I aver. I had my Eltons on when I ran into my friend, Crystal, at The Cellar in downtown Charleston this weekend. "Ooh, I like your glasses," she said. "Can I try them on?" Photo op.