REVIEW

second looks at videos new & old

THE VIDEO: George Washington HS Patriots vs  Martinsburg Bulldogs at Civic Center, Charleston, W.Va.
WHEN: Shot March 15, 2012 by Douglas Imbrogno on assignment for Charleston Gazette
SHOOTING DETAILS: Canon Vixia footage edited in Final Cut Express.
NOTES: Stay around past the credit screen for an impressive high school whoop.
GAZETTE STORY: Here's Doug Smock's related story on this game.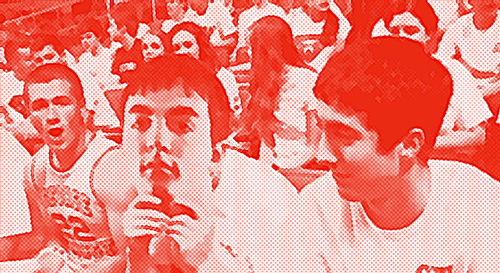 So, we were in the Monday planning meeting, planning coverage for the week ahead. It was the week of the  2012 state high school basketball tourney in Charleston, W.Va.. I had not planned to shoot anything. Then the sports editor, when it's his turn to report, mentions the state tourney. "Might make for good video, even just to get the pageantry of the tournament," he says. The heads of editors around the table bob above various print-outs with story budgets for the week to come for the arts, food, Life & Style, news.
I've been hectoring the sports guys to come up with video ideas for many months. I now feel obligated to follow through and try my hand at my first Gazette sports video. I decide to catch Friday's semi-final match between the Martinsburg Bulldogs and the George Washington Patriots. Turns out to be a good game. Or, as the Gazette photographer who shows up to shoot stills for the Saturday paper, says, catching up to me as a shift my tripod from one end of the court to another: "Best game of the tournament!" I don't know whether or not I captured any pageantry (maybe in the director's cut). But I did get some good foot-stomping, a few nice on-court moves, one very cranky fan and some cheerleaders tossing themselves about.
I posted this video midday on the day after the game, so very few  people likely saw it. In the debut of an occasional series of second looks at videos past, I hope it takes viewers through to the end.
BONUS TECHNO-NOTE: I exported the finished piece as .mov file from Final Cut Express in order to re-import it into my recently purchased version of Final Cut Pro X, so as to get that nifty opening screen effect of text zipping into view. | douglas imbrogno