Notes on trying to be a confessional writer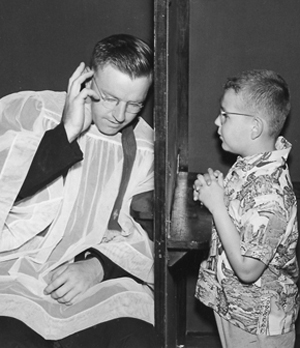 by douglas imbrogno | I have never counted myself among the cadre of brave or bold writers writers or singer-songwriters when it comes to personal revelation under my own name. (It's true, I did once release a song called "I Never Slept With Allen Ginsberg." Weed is even lyricized.) But I must confess to looking over my shoulder most of the time, wondering — while they were alive —  how my mother and father would react. Or how my brothers and sisters and the large municipality of relatives scattered hither and yon might take it were I to crack open the Pandora's box of angst from the trials and tribulations of family life growing up. I usually strike a comic tone when it comes to family tales. Or an elegiac one. In my more hyper-critical moments (which is most all the time), I think I am really a bit of a writerly wimp on that score.
Yet when my friend Elizabeth Gaucher, in pursuit of male voices for her ongoing 'Essays on Childhood' series at her Esse Diem blog, solicited a contribution from me, I thought I would edge out a bit onto the ice. My recollection, "Happy Again," is the first out of the box in her guys-on-childhood series and you can read it here. I still rather hope that my older, old-school relatives not discover it, if only because I think they would think you should not be airing such personal laundry like this for all the world to see and, Great Scott, Douglas! How do you think your mother and father would react were they still alive?!
My mother would absolutely hate this peek behind our door at 707 Waycross Road in a leafy Cincinnati suburb, I think that is obvious. My dad, too, would blanch. Yet my mother dreamed all her life of being a professional writer. Under the tutelage of her books and magazines that burst the seams of our home  and which I eagerly devoured in her wake, my so-called life as a writer and journalist was fed, nourished and stimulated. And, what the hell, my essay is not all that revelatory, given some of the balls-out (literally), no-holds-barred memoirs that have earned so much buzz in recent years. Her writerly self, separate from her personal self, I like to think, would respect, even esteem, the effort.
Plus, I have been trying — well, the Muses who run the shop in my subconscious have been trying — to get a handle on recounting the far more dramatic and messy conflagations that ensued in my life about eight years after the evening described in the Esse Diem piece. I don't know whether I have worked up the mojo to tell that bloody tale in full yet, at least under my own name. But it will be told in one way or another, if only to get it done and fully processed, at last. To finally have it properly situated and understood on the knick-knack shelf of my life.
Then, I can move on to some more comic, elegiac pieces, which are so much easier to write.

RELATED:
"Happy Again"