Al and Doug don't win but do get to eat on stage
"Why Art Can't Hurt You," a WestVirginiaVille.com video, was chosen as one of four finalists in the new Micro-Film category (under 5 minutes) of the 2012 Appalachian Film Festival. Video producer Douglas Imbrogno set out with the star of the video, Albert Perrone, to the rococo, historic Keith-Albee Theater in downtown Huntington, W.Va., for dinner on stage and the awards ceremony. They lost. But happily! With their iPhones and point-and-shoot cameras in hand, they documented the over-the-top wonders of the theater. Meanwhile. Doug used the footage to teach himself a little bit more about Final Cut Pro X.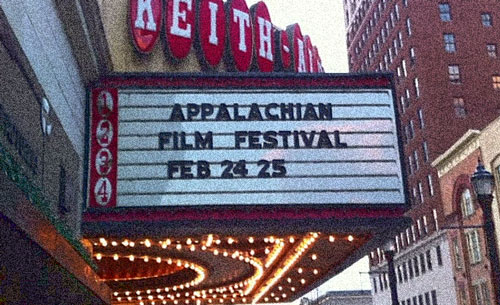 Here's Dave Lavender first-hand report from under all the twinkling:
Appalachian Film Festival wraps up with awards banquet
By DAVE LAVENDER | The Herald-Dispatch | Feb. 27, 2012
HUNTINGTON — Under the twinkling lights of the majestic Keith-Albee Performing Arts Center, the ninth annual Appalachian Film Festival wrapped up its three-day event Saturday with a full 12 hours of film as well as the awards banquet.
Held on stage at the Keith-Albee and catered by Bon Appetit, the coveted Appy Awards, the hand-blown Blenko Glass-made awards, were handed out along with thousands of dollars in cash prizes to indie filmmakers from around the 13-state Appalachian region.
Sam St. Clair of the Huntington Regional Film Commission emceed the event with festival chairman Chris Lusher. They said local judges had screened 115 or so films to shave it down to the 25 flicks that rolled the past three days in Huntington, first at Black Sheep Burrito and Brews and then two days at the Keith-Albee … | Read on