"Dictator's Day" by the Songless Gondoliers
SongoftheDay
UPDATE (Sat. Oct 22, 2011): in Slate on Friday,  Christopher Hitchens makes some good points about Gaddafi's apparent execution:
At the close of an obscene regime, especially one that has shown it would rather destroy society and the state than surrender power, it is natural for people to hope for something like an exorcism. It is satisfying to see the cadaver of the monster and be sure that he can't come back. It is also reassuring to know that there is no hateful figurehead on whom some kind of "werewolf" resistance could converge in order to prolong the misery and atrocity. But Qaddafi at the time of his death was wounded and out of action and at the head of a small group of terrified riff-raff. He was unable to offer any further resistance. And all the positive results that I cited above could have been achieved by the simple expedient of taking him first to a hospital, then to a jail, and thence to the airport. Indeed, a spell in the dock would probably hugely enhance the positive impact, since those poor lost souls who still put their trust in the man could scarcely have their illusions survive the exposure to even a few hours of the madman's gibberings in court.
And so the new Libya begins, but it begins with a squalid lynching. News correspondents have been quite warm and vocal lately, about the general forbearance shown by the rebels to the persons and property of the Qaddafi loyalists. That makes it even more regrettable that the principle could not be honored in its main instance. At the time of writing, Seif-al-Islam Qaddafi, one of Muammar's sons, is said to be still at large. It will be quite a disgrace if he is also killed out of hand, or if at the very least the NTC and the international community do not remind their fighters that he needs to be taken into lawful custody … | READ ON

The day every dictator fears. A song for the day after in Libya: "Dictator's Day" by The Silent Gondoliers, official instrumental band of the Free State of WestVirginiaVille. With Lori McKinney on piano, Douglas Imbrogno on guitar, Albert Perrone on guitar, Brandon Dunn on bass and Johnny Bucket on drums:
Given the extent of Gaddafi's literal crimes against humanity, most especially the vast numbers of his own people that he and his henchman slaughtered, an observer form afar can still agree with this Libyan-born Charleston doctor quoted in today's Charleston Gazette:
Dr. Rida Mazagri, a Charleston neurosurgeon who was held captive in his native Libya for more than six months earlier this year, said the country was robbed of the opportunity to learn Moammar Gadhafi's secrets when the dictator was killed by rebels on Thursday.
Mazagri said Libya should have set an example for countries fighting for democracy by giving Gadhafi a trial by jury. The 69-year-old dictator was killed Thursday as revolutionary fighters overwhelmed his hometown of Sirte and captured the last major bastion of resistance, two months after Gadhafi's regime fell.
"No one is above the law," Mazagri said of the rebel forces that stormed Gadhafi's complex on Thursday. "Everyone should be treated equally. With the law he would have been sentenced to death for all the crimes he did."
And from the obituary for Gaddafi published today in The Telegraph:
It was a suitably chaotic end for a man who could never be easily pigeonholed. Erratic, vain and utterly unpredictable, he always seemed to be enjoying a private joke which no one else could see. His image, plastered on walls all over Libya, seemed a parody of Sixties radical chic — the craggy features, longish hair, the eyes half-hidden behind retro blue-tone shades.
Gaddafi would arrive at summits of Arab leaders in a white limousine surrounded by a bodyguard of nubile Kalashnikov-toting brunettes. At one non-aligned summit in Belgrade, he turned up with two horses and six camels; the Yugoslavs allowed him to graze the camels in front of his hotel – where he pitched his tent and drank fresh camel milk – but refused to allow him to arrive at the conference on one of his white chargers. Several of the camels ended up in Belgrade zoo.
At an African Union summit in Durban in 2002, his entourage consisted of a personal jet, two Antonov transport aircraft, a container ship loaded with buses, goat carcases and prayer mats, a mobile hospital, jamming equipment that disrupted local networks, $6 million in petty cash, and 400 security guards with associated rocket launchers, armoured cars and other hardware, who nearly provoked a shoot-out with South Africa's security forces …
Yet the self-styled "Universal Theorist" and "Guide of the First of September Great Revolution of the Arab Libyan Popular and Socialist Jamahiriya" was no joke. In the 1970s and 1980s, while other tyrants were content to repress their own people, Gaddafi seemed hell-bent on bringing murder and mayhem to the whole world …

The Atlantic online has a photo page that depicts what the end looked like in Sirte, Libya (some of these astounding photographs are pretty grim):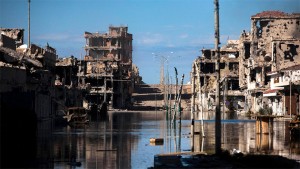 Sirte, Libya after the battles – from TheAtlantic.com slideshow ~ Majid Saeedi/Getty Images