The poet who would be West Virginia governor
Q&A
Bob Henry Baber
As an arts-and-culture blogazine based in the alternative mythical realm of WestVirginiaVille, we are pre-disposed to be intrigued by writers running for governor of the state of West Virginia (see excerpts at bottom). I video-interviewed Bob Henry Baber, Mountain Party gubernatorial candidate, a couple of hours before the start of the final debate in the West Virginia gubernatorial race on Tuesday, Sept. 13, 2011. Media folk had gotten an e-mail earlier that day from Baber's PR person asking people to show up en masse at The Empty Glass in support — after which they'd all march over to the debate in protest of the Mountain Party's exclusion from the event, hosted by the West Virginia Broadcasters Association and AARP West Virginia.
When I pushed open the door into the Glass's darkened interior, I found Baber in suit, tie and polished shoes, kibbitzing at the bar with Greg Carroll. There was not a crowd — en masse or otherwise. This seemed to say much about the Mountain Party's current muscle as a third party. On second thought, it may have as much or more to say about the current seeming hopelessness of crashing the duoply party scene in West Virginia, which consists of a weak Republican Party and – as Baber puts it – a firmly in-control "Republican Lite" Democratic Party establishment.
But Baber seemed ever the trooper (he has never been shy of forsaking the limelight when near its vicinity) as we went across the street for a chat in the waning daylight. He is a well-spoken and enthusiastic diagnostician of what ails the body politic in West Virginia, where the status quo – a sort of corporatocracy of vested interests – has held sway for many a decade, as he describes it. Yet West Virginia was not ever so, he says. What follows is an edited transcript of his observations. A former mayor of Richwood, W.Va., Baber now works as a fundraiser for Glenville State College. 
NOTE: About 48 hours after the interview, Baber and two of his children were involved in an accident in which a tractor-trailer collided with his Jeep. They were bruised but not seriously injured as this Charleston Gazette story notes. | Douglas Imbrogno


WESTVIRGINIAVILLE: The final West Virginia gubernatorial debate is tonight. You're a gubernatorial candidate, but you weren't invited. What have you got to say about that?
BABER: I don't think it's what the Founding Fathers had in mind, number one. As far as I'm concerned, if you've crossed the threshold to be on the ballot – trust the people. We've got one guy running, Harry Bartram, who's a white supremacist. I hate everything he stands for. But he's on the ballot – he should be in the debate. Let the people of West Virginia decide. My philosophy is: that's what a democracy is. I trust the people of West Virginia, I trust the people of the United States, to sort it out and pick the best folks. It's just that simple. It should be democracy at work.
←∞→
Q: Tell a little bit how you got to this point. You started as a poet, as a writer.
BABER: Yeah, I started out as a poet, way way way back, and as a writer. But you know, both my grandfathers were very political. One was an extreme New York conservative. Because I'm a cultural hybrid – my father was a mountaineer, my mother was a New Yorker. My dad met my mom on his way to World War II. He was part of the great Appalachian out-migration, along with all of his brothers and sisters.
So, I had a New York grandfather who was really almost like a John Birch conservative, like a Tea Party conservative. But I had a West Virginia grandfather who was sort of an FDR/Kennedy Democrat. So, I got to actually hear them argue and I found that just fascinating. To me it was like a family fight, really, about the politics of the country. And I've always been interested in politics. For me, West Virginia is so interesting politically because it's such a small state and the politics are so clear, really, when you really get right down to it. It gets more complex when you get into bigger industrial states and bigger states like New York and California. But here in West Virginia, it's pretty cut and dried. You kind of get to find out, you know, just where everybody's at fairly rapidly.
"We're really not a Democratic state anymore. We see that in the gubernatorial race – we have a Republican that's running, Mr., Maloney. And then we have another Republican running – Republican Lite – Mr. Tomblin." 
In 1995-96, I ran in the Democratic primary then, with Charlotte Pritt and Joe Manchin. I was running kind of on the Left, saying most of the same things I'm saying right now – here we are 15 years later and not much has changed. I stepped out of the race at the end – Charlotte Pritt's people asked me to, and I knew it was the right thing to do. I'd had my little soapbox, I didn't want to siphon any votes away from her. Joe was on her heels. Joe was coming, I could see he had the charisma, and just the personality and the drive to become the governor of West Virginia. So, I stepped away, endorsed Charlotte. We had a little press conference down here in Charleston. Of course, I was disappointed that she lost… I think that had she made governor, I might of ended up being one of her people in her administration. And I would've liked that.
I started to see after Charlotte that the Democratic Party was starting to slip in its commitments. What has happened to the Democratic Party is really about what has happened to the unions and to the loss of miners in West Virginia. You know, back in the '50s, we had 125,000 coal miners in West Virginia and they were all union. We were like Massachusetts, one of the most progressive states in the Union. Today, we have 20,00 miners and 6,000 of 'em are union. So, we're really not a Democratic state anymore. We'll never vote for a Democratic president again that I can foresee in my lifetime. And I think over time, the state's going to be more and more Republican. We see that in the gubernatorial race – we have a Republican that's running, Mr., Maloney. And then we have another Republican running – Republican Lite – Mr. Tomblin. I've listened to them. It's very difficult to discern any differences in their policies whatsoever that I can see.
So, essentially there is no Democrat running. There's nobody that speaking for the blue-collar, common person. There's nobody speaking for Green in West Virginia. So, that 'blue-green collar,' is sort of the way I kind of look at it. Over time, we're going to transition.
"The public is fed up with the Republicrats. They've run us right in the ditch. Yeah, they put on a good show of arguing back and forth. But when it comes to really solving the country's problems, they're doing a terrible job – and we all know it. …"
I've felt this ever since I was a child, when I got old enough to kind of really understand West Virginia: 'Why is this state so poor? Why are we so poor?' Last night, I watched the Tea Party debate …. The big argument was about Texas and why Texas is doing so well and how much credit Mr. Perry deserves for it. Well, there was a lot of talk about it being an energy-rich state and that's what has really driven their economy forward.
Well, we're an energy-rich state. But we're in a three-legged race with Mississippi to see who can be the poorest state in the Union. Why? It's because we haven't gotten enough from the severance taxes. Period. So, I've simply called – it's actually old-fashioned capitalism, oddly, coming from a person who's a progressive – but I have said if our severance tax on coal is 5 percent, which it is, and Wyoming, conservative Wyoming, is 7 percent, why shouldn't our severance tax be 7 percent? Which would get us $150-200 million more a year.
Same thing with gas. I've said we should go to Oklahoma's rate, which is not the highest in the nation, it's third highest. But it's considerably higher than ours. That's another $100-150 million. So, all of a sudden we're talking about 8 to 10 percent of the very tight $4 billion state budget.
Now, Mr. Maloney, frankly, is a nice guy, I've met the man, I've shook his hand. But in the debate in Wheeling, I really did notice he really does not understand government. He actually is in over his head. He thinks we're going to cut enough fat out of the budget to pay down the post-employment benefits in Medicare and Medicaid that are looming on the horizon. I've been a mayor of Richwood, W.Va., right there on the ground… you can find ways to cut it out. And I was able to find 10 to 15 percent. But as a governor that's much more difficult to do. You can set a tone, you can do what you can, keep your budget tight. And I am fiscally tight – I don't believe in wasting money, because I think that's a Green principle. I don't believe in wasting plastic, I don't believe in wasting glass, we should recycle. And I think we should hang on to our money and don't waste it.
But if Tomblin says 'More jobs, lower taxes' and Maloney says 'No, no, no — Lower taxes, more jobs,' I don't want to sit on that two-legged stool. Because I'll be on my butt.
The third leg is more money, more capital. That's what we've never had in West Virginia. We've never had the money to do the things we need to do: broad band, entrepreneurship, day-care centers, programs for our seniors, more scholarships for our college students, downtown economic development.
←∞→
'To run for the common man and woman of West Virginia, to run for the environment, to run for the better good of the people of West Virginia and the truth can never be a futile effort.'
Q: You said that the state hasn't moved in 15 years. Why hasn't the state moved in 15 years?
BABER: It's because coal and gas and timber own the Legislature  and the governor. You simply cannot be the governor of West Virginia unless you take money from those entities. I always like the old quote of coal, which said: 'Well,  if we don't own 'em going in, we own 'em the day after they get in.' But in our case, they already own 'em. Up in the Wheeling debate, both Maloney and Tomblin talked about, you know, getting the government off our backs. I never heard one person say 'Where was the government when the Upper Big Branch miners died?' I never heard that. I tell you what – we needed some government on some people's backs those days. Instead, those men died. And they died because they were afraid to call in – it was pure intimidation. They didn't say anything about the unions. Guess what? UMW renegotiated their contract – they got a good contract for the 6,000 union miners we have. The 14,000 non-union we have – they're piggy-backed onto that contract. They may not realize it, but if that union went belly up, their pay, their safety, would go down.
←∞→
Q: What are, though, the realistic prospects of third party politics in West Virginia?
BABER: The American public says – in general – 75 percent of them support the idea of third parties. The public is fed up with the 'Republicrats.' They've run us right in the ditch. Yeah, they put on a good show of arguing back and forth. But when it comes to really solving the country's problems, they're doing a terrible job. And we all know it. Alas – and tonight's a perfect example of it – if you can't get access to the public through television, for example in this West Virginia Broadcasters Association debate …
First off, the Constitution doesn't say anything about two parties. That's number one. Now, there seems to be almost a calcification of politics in the United States. But we're in a sort of chicken-and-egg mode. How are we to get a viable third party if there's a glass ceiling? If it takes so much money … Tomblin has already raised over $3.5 million, Maloney $2 million. They throwing ads at each other, mudslinging. I've seen the ads, they're ridiculous… There's no difference between them. It's insanity, really.
I got asked a question by a reporter that said. 'What would you say to somebody if they said your effort as a third party candidate is a futile effort?'
I would say this: To run for the common man and woman of West Virginia, to run for the environment, to run for the better good of the people of West Virginia and the truth can never be a futile effort.
There's winning and then there's winning. Sure, I'd like to win the governorship. But, gosh, if I won it what a fight I'd have in the Legislature. But I'd take it on, knowing that I could move 'em some. But there's also throwing another log on the fires of social justice. There's bringing the real issues to the table.
←∞→
RELATED LINKS:
– Gazette Audio Interview with Bob Henry Baber and Independent candidate Marla Ingels
– Gazette Audio interview with Earl Ray Tomblin
– Gazette Audio interview with Bill Maloney
– Tomblin, Maloney face off in TV debate
←∞→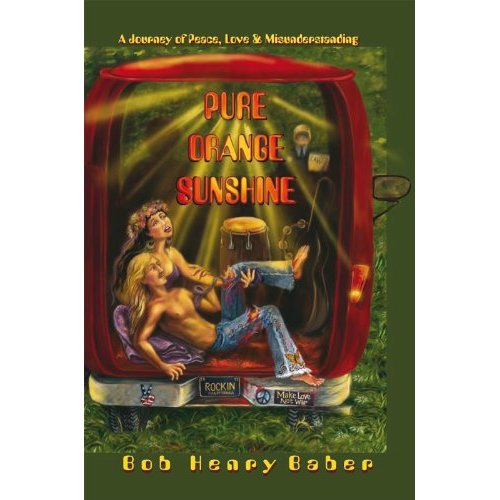 Baber certainly has penned the most interesting written material, by far, of any of the candidates in the race or, like, ever in West Virginia politics. That would be his recently self-published semi-autobiography and balls-out bildungsroman, "Pure Orange Sunshine," which he says is "90 percent true." Author Chuck Kinder ("The Honeymooners" and "Last Mountain Dancer") has a notable blurb about the book:
"Baber is the grand poet of revolution and loss and redeeming love. Somehow this goold old outlaw boy survived the ultimate hillbilly-hippie hero's descent into the portals of hell not only to brag about it, but to sing that journey's tall-tale from the West Virginia mountaintops with words as beautiful and funny, haunting and deadly as sharp, shiny weapons."
Below, one poetry excerpt from the book and the author's concluding lyric call of return to West Virginia.
←∞→
and if I should find love
above suspicion
around the bend
or beneath my bed
I will wash my eyes with stars
let grasshoppers dance on my belly
and roll a spare tire  singlehanded
from Missoula, Montana to Mink Shoals West Virginia
and back.
I will eat every chili apple
in the state of New Mexico
and shed no tears,
spend the night in a cave
without Maria, string or Raid
I will stand by the side of the sea
till the tide sinks me neck
up to me knees.
I will unlasso planets,
suspend gravity,
open lobster cages,
pull a rabbit from my pants,
and man alive slap five
no jive beehive honey vibes
on woman and child alike
and diminished not
one iota by eleventh hour
screaming neon mass murder news
or the imminent demise of all affairs
borne by day and night
I will be
above all
the moon.
←∞→
I'm not going to die for the second American Revolution, I'm going to survive for it.
←∞→
… I'm going to go back to those rolling hills and get Janie to teach me to be a contemporary hip 'n hillbilly. I'm going to stand like a goat on my own four feet and bound confidently from boulder to boulder on rock battery. And if I fall on my tailbone, let ancient balms of green, like Vaseline, salve my reddog scars. I'll plant me a truckpatch garden, burn locust wood in the potbelly, patch the tarpaper roof with whatever can be scrounged, plant a junked car in my front yard and fill it full of wildflowers. I'll beat the black snakes out of the attic, hack down the prickly ash with its crown of thorns, and write a volume of angry-young-man-pissed-off poems and read them to anyone who'll listen. I'll bite off a measurable portion of evil, and chew on it, sabotaging the strippers' lame claims by pouring metal filings and sand in the inner sanctums of their ears, knowing that one man's terror is another's revolt. And if I can't take on the LAPDs and General Waste More Lands singlehanded, I can unite my friends and strive to keep every mountain movement against oppression alive. I'm not going to die for the second American Revolution, I'm going to survive for it. Maria's been right all along. I have my words as a weapon and with them I can be as strong as the truth. Now I intend to tell it: West Virginia, you are family, rock salt and stone, blood kin and bone, that is why I'll come home to you, like a child to mother in crisis-time, to lament your damned demise and to sing the psalm of your praises, from the top of every folded ridge to every person in every valley, who has ears to hear, and will do so.