We've been collecting links about this and that from here and that re the commonwealth of WestVirginiaVille. Consider this an open-thread and we welcome suggestions of your own. Click the images bigger.


At least we're not the porn capital of America, like, say, Utah: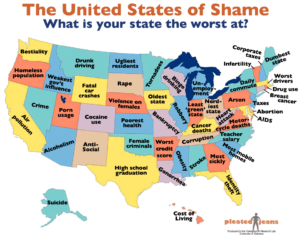 The web site Pleated-Jeans.com recently posted a colorful, to say the least, map of the United States, produced by the Cartographic Research Lab at the University of Alabama. West Virginia never does well in these national rankings, but it's nice to see all the other states getting dinged, too, in this map of "The United States of Shame: What is your state worst at?"
Given the usual slights, slams and pokes in the national media directed at West Virginia, the Mountain State came out relatively unscathed – you hardly laid a glove on us! – as one of the heart attack capitals of the country. Like, tell us, something we don't know? And who knew Oklahama had such a female criminal problem? Click over to Pleated Jeans for links to the source material for each state's shameful accolade.
←∞→
You'd never have to change the batteries and they're cheap enough for one in every room
Speaking of dinging West Virginia, The Advanced Advisory and Research Council of WestVirgniaVille (AARCW) – composed of me and anyone who submits a comment or opinion on the idea – has idly considered devoting a part of this site to cataloging the best, most ridiculous, kinda-sorta funny humor at West Virginia's expense. Got a contribution? We kinda-sorta thought the following was funny and a potential opening salvo in such a collection – A West Virginia Smoke and Fire Alarm: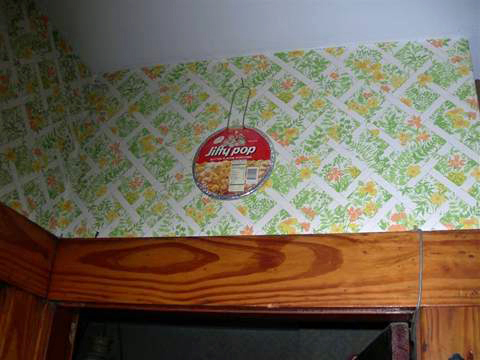 ←∞→
Horses I've met along the way in the hills and hollers of West Virginia
Morning mist, a rattletrap hayshed and an inquisitive horse makes for a quintessential rural West Virginia still life. Although, not so still as this horse who calls Central West Virginia home is a graze-aholic. He's also a carrot-holic. The first step, Nel, is admitting you have a problem.