The Professor and the Porn Legend 3 ~ An Eco-Sexual Ceremony
ROADWORD
An occasional series on notable road trips into and out of WestVirginiaVille
PART 1:  Annie Sprinkle Comes to Dinner
PART 2: Zoot-Suiting Up
PART 3:  An Eco-sexual Ceremony

←∞→
By Douglas Imbrogno

It's midnight and I stand half-dressed in a purple zoot suit, staring at my outfit in a bedroom mirror, wondering if I'm crazy. Or merely a fool. People of a certain age will recognize the feeling. The older you get, the more you wonder if A) Your aging judgment is deeply suspect; or B) You're about to make a donkey's ass of yourself.
These feelings arise as it's the night before I'm to perform as part of the Purple Wedding to the Appalachian Mountains. It's the sixth in a series of performance art weddings by former porn star, now self-described "feminist porn activist, eco-sexual and radical sex educator" Annie Sprinkle and her West Virginia-born artist-professor wife, Elizabeth Stephens. I've recently come to know them and have been invited to be one of several "co-collaborators" in staging the Purple Wedding, to be held the following day in a chapel on the Ohio University campus in Athens, Ohio.
My Magic Makers purple zoot suit, it should be said, is both fantastic and fabulous. It is, in short, fantabulous. But I'm also 53-years-old, a semi-respectable member of the mainstream media and no longer (when the damn hell did that happen?) a spring chicken who should be out in the world, representing, in a purple zoot suit – except on Halloween. It is not Halloween. The wedding takes place the next day, Nov. 6, 2010, and we're all instructed to wear purple and wear it proud.
"Buck up," I tell the haggard-looking face in the mirror. "You signed on for this. You can do this!"
I hitch up my purple pants, which balloon around my legs like psychedelic pantaloons. I'm just having one of those moments, the kind where you think you are Done For. You are Too Old. You should just Calm Down and settle back into that La-Z-Boy and watch "Glee" instead. But then, I am a performer, too, a weekend warrior singer-songwriter. I'm also writing a space opera for the following year, which I'll perform at a festival in the city where I work, dressed in an equally absurd costume. I am not too old to make a fool of myself! You can make a fool of yourself at any age!
I will not make a fool of myself, I tell the guy in the mirror, pulling on my zoot suit jacket, which really is quite the thing. I draw comfort and inspiration from the lives and example of Annie Sprinkle, self-aware porn legend turned eco-sexual evangelist and her equally exuberant, outré, fearless partner, Beth. They have made performance art of every twist and turn of their lives, even the crappy turns.
Needless to say, there is a lot of touching in their work. And, well, Annie's early career was all touching. But some of their most touching work – emotion-wise, that is – has been their reaction to the un-sexy stuff of life. I think of the photos they published of them dressed up in costume, smiling bravely, for Annie's chemo after she was diagnosed in 2005 with breast cancer. And their "Breast Cancer Ballet Collages," which Beth describes on their loveartlab.org site (which chronicles their seven-year-long art wedding project in all of its multifarious, let-it-all-hang-out-and-we-mean-all-hang-out glory):
We braved our war against breast cancer together, utilizing our creativity and our passion for each other to cope. We shaved each other's heads after starting chemo, then posed for erotic photos while totally bald–thus creating a new genre of erotica; cancer erotica. We asked the oncologist for copies of Annie's colorful radiation treatment plans. We juxtaposed old pin-up photos of Annie with the new topless scans, MRI images and other ephemera to create a series of collages."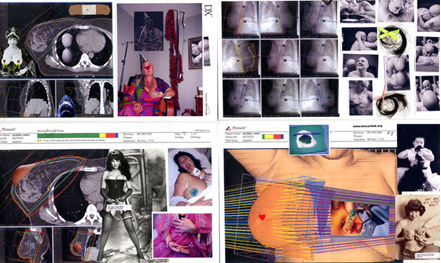 On the other hand, while I can be fairly out there in my tastes, some of their stuff is out past the place on my personal map that says 'Here there be dragons …" Besides having the most public cervix on the planet, Annie has been unabashed in willing to go places in public many people would never go in private. Since meeting and falling in love, she and Beth have been a worldwide whirlwind of wild, unabashed performance art. But they are never un-interesting, even if I'd rather read about than engage in some of their funkier exploits. Like, for instance, Annie and Beth's 'Extreme Kiss" performance piece, which they also did for their 2005 "Red Wedding" in San Francisco:  "We kiss very intensely and passionately in public space, at a gallery or museum opening, for three or four hours without stopping, and without going further than the kiss. People can watch us or not."
Not that there's anything wrong with that. But. Ugh. I'm thinking – Listerine. On the third hand, these women are crazy funny. Like their artistic vibrator homage to Marchel Duchamp, "R. Muff," a plugged-in lesbian variation of  Duchamp's R. Mutt urinal.
So, then. Life as art. The art of life.
'Are you in?' I ask the guy in the mirror?
I'm in.
Of course, I'm in.
←∞→
A Purple Wedding slideshow (click the 'four-arrows icon' at right to watch large-screen).
My wife, Laurie, and I awake early that Saturday and head for my car. I call up a GPS map on my iPhone to direct us out of the West Virginia hills, and off we go to perhaps one of the largest gatherings in American history of people dressed in bright purple clothing. No, really.  Some, like my spouse, and my photographer pal, Paul Corbit Brown, wear only token purple – a sweater or purple scarf scarfed up from Gabriel's. Others are whole-hog purple like me, as the photographic/video evidence will attest from the doings inside Galbreath Chapel that day.
Even some co-collaborators wear minimal purple, but for them, it's part of their art. Like the two dancers on the crowded bill, Erin Marie Paun and John Paul Staszel, who look like, respectively, Wonder Woman and Jack Lalane when he was 25. Pre-wedding, they wander around downstairs in their underthings, their various muscles and breasts and thighs and stuff making me all hot and bothered and insecure. It is quite possible they're not from our solar system. Then, I realize, oh wait – those skimpy things are their outfits. You'll know them when you see them in the video, even as fuzzy as the back-of-the-room video vantage point is on their muscular-sexy dance routine – which is about what foreplay would look like if choreographed by Twyla Tharp. That's a compliment, BTW.
And Annie and Beth? Well, their outfits are hallucinogenic visions of cascading purple, silver and white fabric, designed by Sarah Stolar. They look like they're not only not of this solar system, but perhaps from two galaxies over. Two large moons cap Annie's bosom, lit by capillary branches of purple fiber-optic lights. A hand, well … cups a, well … ball at Beth's crotch. I believe it's a metaphor. Silver planets swirl about their head-caps.
Stolar herself also manages one of the most ethereal performances of the afternoon, though when she takes up her position, armed with two silvery hula hoops, one feared something from a cheesy cheerleader contest. But her artful sleight-of-hand and manipulation of the hoops (the grainy video hardly does it justice) creates mesmerizing arabesques and hypnotic filigrees in the air. The lucky charm of the day holds even when – yikes! – a hoop escapes her grip and flies into the audience. It lands perfectly around the shoulders of the wedding's official photographer, a bare-shouldered beauty, as if she'd intended this perfect ring-toss. Stolar retrieves it smoothly and goes on as the audience's surprised gasps melt into laughter.
It turns out to be that kind of curious and delightful event, certainly the strangest gig of my performing life. Eco-Chaplain Sarah Vekesi Phillips begins the ceremony, explaining how she actually trained to be a chaplain to the environmental community. This Purple Wedding to the Appalachian Mountains should not be seen as just a one-off prank, she says:
"You might wonder how is it possible to wed, to marry the mountains? Is it just an act of art? Is it purely symbolic but yet are their vows real? We often think of marriage as loving, honoring and cherishing our beloved to the best of our ability. The mountains of Appalachia cannot be separated from their people… You can't take mountain people away from their mountains… Taking in the rain, the rain filters down into the rock and comes out as pure water which we drink. Without it, we don't survive. Day in and day out, those mountains are loving us, they're honoring us, they are cherishing us through their life-sustaining systems.
But are we reciprocating? Do we go about our lives without paying attention to that relationship? Beth and Annie are encouraging us all to pay attention to that relationship. They are asking every single one of us to say, 'Wow, can I love these mountains? Can I honor these mountains? Can I cherish these mountains?'
I went to seminary to offer pastoral support specifically to environmental activists. I met them at Mountain Justice summer camp this past summer. They asked me if I would do some premarital counseling for their upcoming wedding to the mountains. Well sure! This is the 11th hour. The mountaintop removal that's going on within Appalachia has brought this region to the brink of devastation…. We can turn this around. So, friends and family and fellow eco-sexuals please enjoy this event. Don't take this just as a gimmick but as a real, deep, true- lasting commitment and relationship of love to these mountains.
I am actually the first performer up. I nod to my photographer mate and Paul Corbit Brown fires up a Macintosh show that mixes video of the lovely West Virginia hills interrupted by Paul's startling photos of the ravages of mountaintop removal across the region. As the video unspools against a chapel wall, I sign a song that has long haunted me, an a cappela piece called "Appalachian Round" (which, since my regular musical bandmates couldn't make the wedding, I sing live, overtop a recording of the others. We'll do it live this June at the space opera). It's a song of longing for the hills, when separated from them:
Take me back, O hills I love – lift me from this lonely bed.
Light my way, with stars above – curl soft winds around my head.
Wash my feet in crystal streams – cradle my arms in boughs of oak.
Breathe the scent of pine for dreams – wrap me tight in earthen cloak.
I acquit myself well enough. I come off stage and run my hand through my thinning purple hair (I've dyed it with Magic Maker  dye). Done.
The performances come one after another. More dancers, some poets, more singers (including fellow Mountain State singer-songwriter T. Paige Dalporto). Mountaintop removal activist and icon Larry Gibson delivers a stirring oration as the official giver of the wedding homily. I have not heard him speak before and the burr in his voice can make him hard to understand unless you're looking straight at him. But he has deceased West Virginia Sen. Bob Byrd's old gift of the stemwinder orator. And this Keeper of the Mountains has much to give voice to on behalf of the hills:
The voice of the mountains will be spoken loud and clear- LOUD and CLEAR! Nobody hears the mountains crying – nobody hears the mountains crying….  I hope in time we'll have millions of people who are keepers of the mountains.
A standing O for a guy who had no need to wear purple, just his signature canary yellow ball-cap.
In the end, Annie and Beth and their Best Man and Officiant Joseph Kramer invite the whole crowd to marry the Appalachian Mountains. And so we do. And a bunch of 'I do's' follow. Here are the vows.
We process out the chapel, purplishly, to the strains of  "The Wedding March." At the ceremony that follows, there's a tableful of colorful cupcakes made up to look like little breasts.
Like I said, oddest gig of my life.

Here is the official wedding video.

PART 1:  Annie Sprinkle Comes to Dinner
PART 2: Zoot-Suiting Up
PART 3:  An Eco-sexual Ceremony
More RoadWords:
~ 800 Miles to Go Before I Sleep