The Professor and the Porn Legend 2: Got Purple?
ROADWORD
An occasional series on notable road trips into and out of WestVirginiaVille
Annie Sprinkle and Elizabeth Stephens, right before their Nov. 6, 2010 'Purple Wedding to the Mountains' on the campus of Ohio University in Athens, Ohio
photo by douglas imbrogno | click bigger

Part 1: Annie Sprinkle Comes to Dinner
PART 2: Zoot-Suiting Up
Part 3: An Eco-sexual Ceremony

By Douglas Imbrogno | I am standing in front of a mirror in a purple zoot suit. Wondering: 'Does this zoot suit make me look fat?"
No, actually, I am wondering which of several purple outfits my friend Ken has pulled from his copious stock of costumes that I should don for the Purple Wedding to the Mountains. Ken Fox, co-owner of Magic Makers in Huntington, W.Va., is a master costumer and has outfitted me before. Let's see, there was Captain Von Trapp. Then there was Io, lead singer of the Ions.
"Ken," I had said, reaching him via cellphone the day before the fitting. "I'm playing at a performance art wedding this weekend between former porn star Annie Sprinkle and her professor-artist wife from West Virginia, Elizabeth Stephens. You're supposed to wear purple. Can you help?"
Now, the thing you need to understand about the two Kens who run Magic Makers (the other is Ken Epperly) is that they get  ridiculous, last-minute, occasionally mysterious costume requests all the time. From across the globe. You just can't phase these guys or impress them with a bizarre request. Porn legend? Purple wedding? Check. See you tomorrow!
They once shipped a couple dozen head-to-toe bunny outfits to the White House for a Clinton administration egg roll. (See their killer bunny costumes here.) Every year, they get a mystery request from Germany for about 200 cabbie hats – they fill it, no questions asked. These guys are pros.
Which is why a rack of purple clothing awaited me when I ascended the stairs to Ken's lair, plucked from a massive warren of costumes on the second floor of Magic Makers. I was looking to pull off another manifestation of Io, a musical character who's part of a space opera I hope to confabulate into life on the Web – a story for another day.
Ken said in an interview once that from his stock of costumes he could dress you as "anything from a caveman to a spaceman" and pretty much anyone – or anything –  in between. Which is why he had a puffy shirt and robe that would have made me look like a Purple Sultan. Or an outfit that would make me look like a Purple Pimp. Or one that would transform me into a Purple Edwardian Dandy.
I went with a purple zoot suit. "That's the one I thought of first," said Ken, proving we operate on the same purplish wavelength.
I should note – the zoot suit did make me look fat. Have you ever seen the pants that go with a zoot suit? We're talking elephant thighs.
The things we do for Art.
…………
Queer Weddings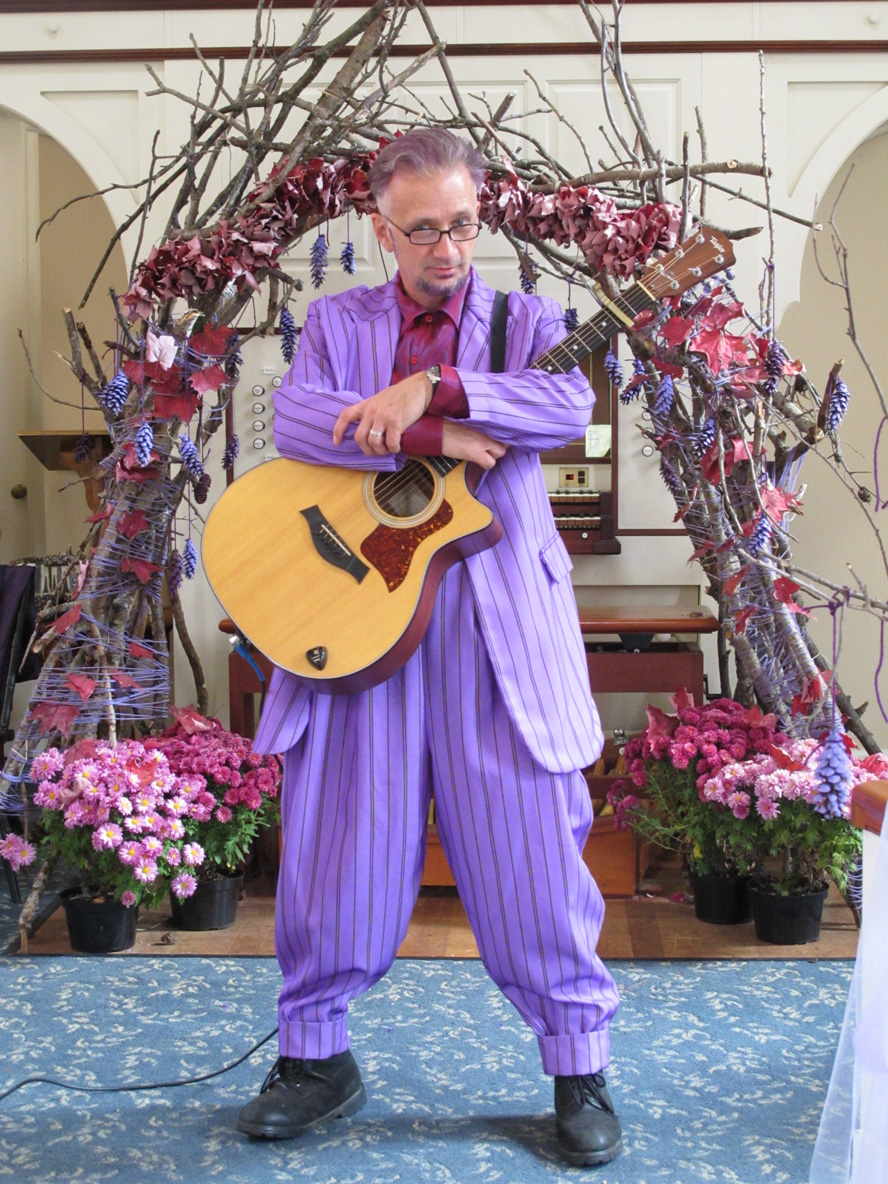 Your humble narrator, hours before the Purple Wedding to the Mountains | photo by Paul Corbit Brown
I had sought out Ken's costuming mojo as I'd taken a look at what Annie and Beth and their guests had worn at their prior performance art weddings. They had set a high, high bar.
When you think about it, all weddings are performance art. To be sure, they are usually thoroughly conventional, off-the-rack performances, relieved only by the soap opera entertainment of excruciating best-friend toasts, continual emergency infusions from the champagne fountain and the best man attempting The Moonwalk or Hammer Dance and knocking over the band's drumkit. But Annie and Beth were playing a different game altogether.
The Purple Wedding to the Mountains was the sixth in a series of weddings staged around the country and world by these two antic, colorful creatures who hold nothing back when it comes to their creative collaborations. I liked the description they used for one of their "Post-Porn" theatrical performances as I began to figure out just who these two women were:
"What happens when former porn star, sexologist and performance artist Annie Sprinkle falls madly in love with experimental artist, professor and sexy dyke playboy Elizabeth Stephens? We create a theater/performance art show about our relationship exploring artificial insemination, breast cancer treatments, queer weddings, art experiments, aging, sexuality and more. As a response to the war, anti-gay marriage sentiment and the politics of breast cancer, we invite everyone to a genuine celebration and critical public exploration of the deepest realms of romantic, sexual and familial love to bring about positive social change."
Some of the essentials of that description (genuine celebration, positive social change, queer wedding, art experiment) lay at the gist of these weddings, as I began to sort through their loveartlab.org web site, which documents their wide-ranging collaborations and uninhibited art happenings. The weddings had taken place far and wide, sometimes twice a year. Each was animated by a color associated with one of the body's chakras and its associated bodily geography: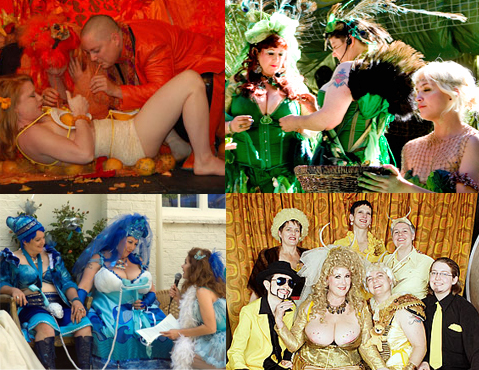 Scenes from previously colored weddings and years. See more at the talking web site  loveartlab.org

Red Year, 2005, New York City: Security, Survival, Perineum
Orange Year, 2006, San Francisco: Sexuality, Creativity, Genitals
Yellow Year, 2007, Calgary, Canada: Courage, Power, Belly
Green Year, 2008, Santa Cruz, California: Love, Compassion, Heart
Blue Year, 2009, Oxford, England; Venice: Communication, Throat
Purple Year, 2010, L.A. and Athens, Ohio: Intuition, Wisdom, Third Eye
White Year, 2011: Union, Bliss, Crown
So, cool. I'd been invited to be one of the Purple Year performers. I was into intuition. I could always use a little more wisdom. And for years, I'd been staging a performance art event called  Third Eye Cabaret, which mixed music, characters and a little message. This was kismet – colored purple.
Earth Lover
The Wedding Party outside an OU chapel at the Purple Wedding to the Mountains | photo by Douglas Imbrogno

But the Purple Wedding to the Mountains was also an artistic protest volley, lobbed into the Appalachian hills where I live. For West Virginia, where Beth Stephens grew up and still has deep family roots, is a place where mountaintop removal mining has mowed down mountain after mountain, clipping their heads off like grass in front of a lawnmower. The mining practice has emptied out whole mountain towns, poisoned or buried hundreds of miles of creeks and streams and blasted out vast moonscapes amid the verdant, rolling sea of green hills. How did we get into such a fix? What do you do in response?
In their playful way, ever churning the tropes of sensuality and sexuality into what they cook up, Sprinkle and Stephens had concocted a fresh, irreverent approach to the environmental depradations of human versus planet: ecosexuality. Or, as a Purple Wedding press releases put it:  "We aim to make the environmental movement a little more sexy, fun and diverse through art."
On the surface, their weddings looked to be all about having fun, wearing costumes worthy of a Venetian Carnivale ball and  showcasing (often) not-for-primetime performance art. Judging by photos of past wedding performances, this could be my first time sharing a stage with a fellow performer wearing just panties, panties the color of the wedding year. Bared breasts and bodies, erotic, interpretive dance, ecstatic communions – their weddings featured offbeat displays of all stripe and color. You could look it up. I was down with purple pantied, co-celebrants. And, fortunately, my mother was long gone, although if her spirit is reading this I am sure I could light a 100-watt bulb held over her mausoluem crypt, powered by her spinning in her grave.
But beyond the edgy, kaleidoscopic spectacle, the duo of Sprinkle & Stephens were using the events to make a point or three. They were going to marry the Earth – in all its watery, dirty, thrusting, fecund, vital parts. One year they married the sky, another the ocean. This year it was to be the mountains. They were taking on the Earth as lover, inviting their wedding guests to share in the marriage vows, to cop a feel. To get a lot more intimate.
But didn't we already have a longstanding relationship with the planet: the Earth as Mom? Everyone loves sweet old Mother Earth, right? You can almost see her in her flowing hippie dress, her apron dusted with flour after she'd just made whole-wheat bread.
But no, it wasn't enough any more. The whole mother thing – '"Give me, feed me, Mom!" – wasn't cutting it anymore. How would it be if instead the Earth was your lover? Wouldn't you be sure to take care of your lover, especially if you were in mad love with her? Pick up the theme, now, from an excerpt from their experimental theater piece "Dirty Sexecology—25 Ways to Make Love to the Earth":
Annie: TONIGHT we are going to share with you our very important discovery. This discovery is about nothing less than humankind's relationship with the Earth. Let us explain. Traditionally human kind has generally imagined the Earth in two different ways. First as an ENEMY FORCE to be dominated and controlled.  Man VS. Nature!
Beth: Second, the Earth has been imagined as being our MOTHER. Mother Earth. Meaning that "she" that takes care of US. We assume that "she" will breast-feed us forever. By the way, we do realize that the Earth could be imagined as female and/or male. But for the sake of simplicity from here on in, we will privilege the pronoun "she" for the Earth.  Plus, as you know, "s/he" includes "he."
Annie: Herstory proves that we cannot conquer nature. Look at Pompeii, or the San Francisco earthquake in 1906. Seeing the Earth as enemy does not help. And these days the Earth is so used, so abused, and her resources so exploited, that to see the Earth as our MOTHER is to put too much of a burden on her now. We can't just take, take, take. We must find a new way to relate to the Earth that is more mutual and sustainable.
Beth: We all know that the Earth's resources are limited! We have polluted our planet with islands of plastic the size of Texas. There's global warming and the waters are rising. More animal and plant species are becoming extinct every minute. Clearly we're KILLING our environment! And THAT is what our discovery is all about. We're proposing a third alternative to Earth as Enemy Force, and Earth as Mother.
Annie: It's a whole NEW paradigm. It's positively revolutionary! Its Earth as LOVER! To support this revolutionary approach, we've created a new scientific field.  Its sexecology! And we're sex-ecologists.   Maybe YOU would like to become sex-ecologists too! We are also 'ecosexuals.'  Ecosexuals are people who love and care for the Earth, erotically.  Ecosexuals take the Earth as their lover.
This was a witty, inspired paradigm shift. But could it gain any traction in the culture at large? Was it just another one of those preaching-to-the-teensy-choir jeremiads that smart, but marginalized artists on the edge had forever been shouting into the void as the earth movers crunched through Ferngully and the politicos and coal barons did what they damn well pleased? Decades past, 'treehugger' had become an epithet hung around the necks of moony enviros. Now, that we were being advised to sleep with the trees, could 'treefucker' be far behind?
But you take your paradigm shifts where you find them. Insert here the parable of the acorn and the oak: from small things, big things may come. And judging from the aerial photos, the moonscaped mountains of Appalachia needed all the help they could find.
Anyway, thanks to Ken and Magic Makers, I was ready to zoot suit up.
It was about time to join the Purple Choir.

TO BE CONTINUED
—
RELATED:
Road
Words
: "800 Miles to Go Before I Sleep"