A vegetarian makeover for traditional mountain cuisine
VillagePeople | Rachel Ward
~
Vegan Apple Butter? Vegetarian pepperoni rolls? West Virginia is not exactly celebrated for its vegetarian mountain cuisine, much less its vegan dishes. Rachel Ward is out to correct the score somewhat with her new cookbook "Mountain Favorites for Vegetarians," which reworks  some classic Appalachian and traditional dishes.  (Disclosure: she was a Charleston Gazette colleague of mine before quitting to launch this cookbook – we all looked forward to those days she came in armed with new dishes for the collective copy desk noshing table.)
Of the 32 vegetarian recipes, 18 of them are vegan or can be made so. The PDF-formatted e-book (available here for $13.77) ranges from vegan Apple Butter, Brown Gravy and Seven-Layer Salad, to Collard Greens, Heirloom Squash Pie, Irish Stew and even vegetarian Pepperoni Rolls – a nice bit of culinary jujitsu, that last one.
Born and raised in Charleston, W.Va., Ward is a graduate of Marshall University with a B.A. in journalism. But for a long while now she has been doing some intensive study on reworking traditional recipes after health issues inspired her to adopt a vegetarian diet. I tossed her a couple of questions about "Mountain Favorites for Vegetarians" and she supplied some sample recipes. Follow her cooking adventures on her blog where you can also submit recipes for a possible vegetarian makeover.  Scroll down to try out her recipes for Squash Patties and Sauteéd Mushrooms. | Douglas Imbrogno

WESTVIRGINIAVILLE: You were working in the newspaper business with a solid job as a copy editor at the most respected newspaper in West Virginia. Then you up and quit to pursue the writing of a cookbook. How did you come to that decision?
WARD: My choice was actually a long time in coming. It was a highly personal decision for me, but basically it was a convergence of changes inside of me and financial issues. I came to the realization that for me personally, there was no future in newspapers. I still miss the people I worked with, but I have to say I am incredibly happy and have no regrets. The cookbook idea happened very fast; I had already been trying to "fix" a couple of recipes just for myself, and "Mountain Favorites" was a natural extension of that. My intuition can be very strong and it was practically screaming at me to write this book. I prepared during my last two weeks at the paper, then got started in the kitchen my first day at home. I haven't looked back since.
Q: West Virginia and Appalachia are not exactly known for their vegetarian/vegan cuisine. Did that give you pause in producing your cookbook or was it rather the point – to fix that?
A: It didn't cause me to pause at all. First of all, there are millions of vegetarians all over the world, and my book, while it does focus on the types of food you would find here in Appalachia, can appeal to folks in many states and countries. As for "fixing" Appalachian cuisine, that was definitely part of why I wrote the book. It began as an effort to fix it just for me, and then it grew into, "Hey, I can offer this opportunity to anyone who is interested."
I realize some people in West Virginia/Appalachia aren't going to want my book. However, the existence of it starts a conversation and presents the possibility that people can eat food they recognize as Appalachian without eating a bunch of meat or dairy or animal fat. I think it's important to let people have real choices. "Mountain Favorites for Vegetarians" offers people a choice they simply didn't have before, and if the book helps my readers live longer or be in less pain or keep weight off, that's even better.
Q: Who do you think is the target audience for this cookbook?
A: Vegetarians and vegans, obviously, but less obvious are those meat eaters who have that one "weirdo" in the family and don't know what to make for them to eat when they come over. Then there are those like me who have had health problems that have forced them to eat differently. When you have no choice, it can be traumatic to give up childhood foods. You can feel very left out at mealtime even while surrounded by family. And don't even get me started on restaurants! Also, there is a real, growing trend out there for people to eat fewer animal products. When I go to other states, especially out West, it's so easy to get vegetarian meals. Appalachia is behind, but that won't last forever. Eventually, people's needs and desires will catalyze change here. My book will make it easier for them. And finally, there are the folks who collect Appalachian cookbooks.
Q: What is an example or some of the recipes you have reworked to make them vegetarian?
A: As far as pure culinary glee is concerned, the green beans are No. 1. My mother called them "a work of art," and I actually cried a little when she said that. I know it sounds stupid, but those beans have been a staple in our family since my great-grandmother was a little child, at least. They've been made exactly the same way since 1902 that we're sure of — with lots of bacon drippings. The fact that my mother likes my recipe just as well is a culinary miracle. Seeing her entire face light up when she tried them was a huge deal. That was the moment I *knew* I could do the book.
In terms of a complicated technical feat, the two winners are the stuffed peppers and the pepperoni rolls. They don't taste "just like" the originals of course, but they keep the spirit of them and they hit that spot in your mouth and your head where stuffed peppers and pepperoni rolls do. I also figured out the techniques needed to get them to turn out right consistently. I ended up writing a really long set of instructions for both. But don't let it scare you! It's a lot harder to read about it than to just do it.
Q: Obesity and ill health plague Appalachia. Is part of your hope that a more vegetarian-oriented mountain diet might help address that?
A: Absolutely. Exercise and other lifestyle changes have to happen too, but eating a healthier diet is vital. I think everyone should read "The China Study" so they can understand it has been shown very strongly that eating a plant-based diet is not only possible, but preferable for health and longevity. The bottom line is, it is simply easier for most people to lose weight and keep it off eating vegetarian. While some of the food in my book is definitely not "health food," almost all of my recipes are lighter in fat than the foods on which they're based. I also used less salt and sugar when I could, and unrefined sugar whenever it fit the food.
Q: Now that you've birthed this book, what's next?
A: I still have a lot to learn on the business side of things, and it's time for me to get back into the kitchen so I can keep my website updated with new recipes. Also in December, I will get the ball rolling on a print edition of "Mountain Favorites." Fast forwarding a little more, a second book is likely going to happen sometime in 2011. There were so many recipes that didn't get into this book. And frankly, I'm still a little mad at chicken-fried steak for not cooperating with me. I absolutely destroyed my kitchen many times over trying to get a good working recipe, and it eluded me. That would be a real feather in my cap for book No. 2.
Q: Ask yourself a question – and answer it.
A: Oh, wow. OK.
Q: How do you finish a cookbook with a cat who insists on sleeping on your feet in front of the stove?
A: Let's put it this way: It's a good thing I'm flexible. That and putting all of the possible ingredients on the counter before starting. And keeping the emergency can of cat food nearby as the last resort. And after all that, Angel wanted a writing credit. Cats…
—
Recipes courtesy "Mountain Favorites for Vegetarians" © 2010 Rachel A. Ward
NOTE ON RECIPES: Earth Balance is a buttery spread. You can get it in Charleston at Ashton Place Kroger or at the Healthy Life Market. You can use any margarine instead, but I like it because it's not hydrogenated and you can get a no-soy version. It fries, bakes, sautés and spreads well.
Squash Patties
Makes 8 patties, enough for 4 people
I had never heard of squash patties until I did research for this book. I found what other people were calling a "great" recipe and thought it was incredibly bland and emphasized the flours too much. I added more squash, fresh herbs, minced veggies and red pepper for some kick. My additions probably make these less authentic, but I believe they are far tastier.
Note on spice: If you are not into spicy food, use only 1/8 to 1/4 teaspoon of the red pepper powder and cut the amount of black pepper in half the first time you make it.
Ingredients:
2 1/4 cups grated squash (or zucchini)
2 green onions, minced
3 tablespoons minced green pepper
2 tablespoons minced parsley
6-10 individual leaves of fresh rosemary, minced
1/3 cup unbleached flour
1/4 cup corn flour
1 teaspoon baking powder
1/2 teaspoon black pepper (or to taste)
1/2 teaspoon salt (or to taste)
1/8-1/2 teaspoon red pepper powder, depending on desired level of heat
1 egg, beaten 2 to 3 tablespoons of Earth Balance®
Directions: Place Earth Balance® in large frying pan. Set aside. For electric range, turn burner up between 6 and 7 heat (Medium High). Do NOT place pan on burner yet. Grate squash, mince green pepper, onions and herbs. Place all in a medium bowl. For electric range, put pan on hot burner. Place black and red peppers and salt into bowl. Mix well. Add flours and baking powder. Mix until batter is evenly wet. For gas range, turn burner on Medium High now. Place heaping tablespoonful of batter and in hot margarine. Pat it down with the spoon to get it nice and thin like a little pancake. Repeat until pan contains 4 patties. When you see sides of patty bottoms start to brown, turn them over. Really thin patties will take less than 2 minutes to cook on one side. Check often if unsure. Remove from pan immediately to drain on paper towels or rack. Remove pan from hot burner when empty to avoid burning margarine. Spoon in remaining batter. Return pan to heat. (Margarine should start to bubble immediately.) Repeat browning and draining process. Serve hot and as soon as possible after cooking. If making a large number of patties, try multiple pans, or keep the patties warm in a low oven just as you would pancakes.
Note on egg: I tried making these with egg replacer powder and it simply didn't work. You might try flax seed gel with better results.
Serving note: Try these with tomato gravy, ketchup or fresh sliced tomatoes.
—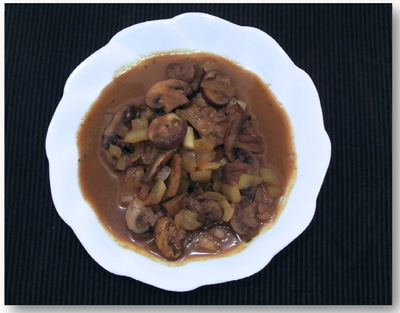 Sautéed Mushrooms (Vegan)
Serves 4-8
I have very fond memories of my father teaching me how to make these. I have since changed the recipe – his calls for cooking the mushrooms in meat juices – but the basic principle is the same. Take yummy mushrooms, and cook them, covered, with a lot of seasonings. They make their own delightful sauce as they cook down. The "secret" ingredient is Worcestershire sauce. It goes with the flavor of the mushrooms perfectly. You can add a bit of red wine if you like, depending on what you are serving. You can also eat this as the main entrée, and it is absolutely delicious eaten with Sweet Potato Biscuits (Page 68).

Ingredients:
16 oz. baby bella mushrooms (or button mushrooms)
1 large onion, diced
2 large cloves garlic, minced
2 tablespoons The Wizard's® Organic Vegan Worcestershire Sauce®
1 tablespoon coconut oil or Earth Balance®
1/2 teaspoon paprika
1/2 teaspoon turmeric
1/2 teaspoon fresh rosemary, minced
1/2 teaspoon fresh thyme, minced
Pepper to taste

Directions:
Melt coconut oil in a large, heavy frying pan on Medium heat. Add diced onion. Cover and allow the onions to sweat while you slice the mushrooms. Add the mushrooms and mix in with the onions. Cover. Mince the herbs and garlic. Add them to the pan, then the spices and Worcestershire sauce. Stir and cover. Turn heat up to Medium High. Let the mixture cook down in the pan until most of the mushrooms are smaller and look well cooked. If you prefer less liquid, uncover the mushrooms and let the extra water cook off for a couple of minutes. Serve.

Note: If you don't have much time, you can buy pre-sliced mushrooms. Just make sure they are very fresh and use them shortly after buying and no one will be the wiser.